JMF Training & Support Specialists is a proudly Woman Owned Small Business. We provide training and support services for various Cost Estimating software and tools. Our personnel has decades of experience in developing, training, and supporting these tools and can also provide Quality Assurance and Testing for any firms looking to update or release their own cost estimating software, tools, or resources.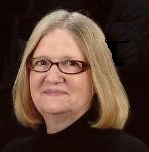 A private computer and training consultant with more than thirty years of experience in the male-dominated computer industry, Janice Folkers has taught and supported thousands of customers while proudly working to form this company and prove that Women can excel in this industry.
As a consultant, she has trained and provided support to users of MII, HII and ACF for both the government and the commercial sector. She has developed training courses and procedures in all areas of the microcomputer industry. She is highly knowledgeable in many areas of computers and software.
She has provided training to insurance carriers and currently develops training material for an Internet claims management system designed for residential and light commercial repairs. She has also provided training for accounting systems, medical and dental claims systems.
A student of the University of West Florida, Mrs. Folkers is widowed with six children and fifteen grandchildren and resides in Suwanee, GA.
What our Customers are Saying
"Janice and Heather are awesome. They are prepared and efficient at responding to questions, changes, or problems--technical or otherwise. Their communications were all patient and respectful at all times."
- Christopher J. Smith, MME, PMP, JGMS-Government Services, LLC
"Although I have been using MII for a while, this course was extremely beneficial. The instructor explained all topics thoroughly and I know my skills have improved, and I'm looking forward to using this new knowledge for future projects."
- Frances Evans, Stantec
"Janice is knowledgeable and well informed about MII. She's very patient in pointing out the ropes. Thanks Janice!"
- Manny Delos Reyes, Naval Facilities Engineering Command
"Janice did amazing at going through all basics and walking through the process. I feel that MII will be a manageable software to use on a daily basis from this course. THANK YOU!!"
- Brooke Gienapp, JGMS-Government Services, LLC
"Janice...your expertise must be pretty much unmatched, I was just in awe at how quickly you answered ANY/ALL questions or getting us back where we need to be. Every question was immediately met with a solution/answer at the highest level. The gov't is fortunate to have you doing these.."
- Kyle Chase, Estimations
"Instructors were wonderful, well understood, highly educated in software and VERY patient with students. Great class and look forward to applying this knowledge in the field of work."
- Marina Jones, Design Alaska
"Janice Folkers is highly skilled, knowledgeable, talented, and patient."
- Robert Vanoer, U.S. Army Corps of Engineers
"I have given high marks because of your professionalism. I sincerely appreciate your hard work, understanding, and patience with all participants."
- Richard Eisele, U.S. Army Corps of Engineers
"Janice and Heather did a great job facilitating the various MII skill levels of the students. Both are very patient and wants all to understand the content. Your efforts are much appreciated."
- Brandt Takeuchi, Naval Facilities Engineering Command
"Janice and Heather were very informative and helpful. One of the best trainings i have been to in the past 5 years."
- James Jenkins, U.S. Army Corps of Engineers
"Janice was excellent. One of the better instructors I have had. Especially good at using the virtual format. Heather was super helpful too, from what I saw of her helping the other students I was very impressed."
- Jonathon Delp, U.S. Army Corps of Engineers
"Great training overall. Very knowledgeable and very helpful to all students. Appreciated the openness and willingness to answer questions."
- Grant Wilson, McMillen, LLC